1,229 total views, 18 views today
Two things we can learn from Abba Kyari's death – Demola Adeyemi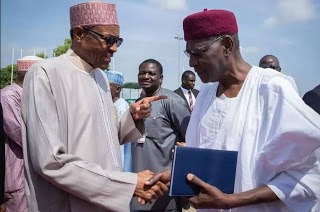 It's been almost 6 months since the current Coronavirus pandemic began in Wuhan China, and with almost 2.5 million people infected globally, the virus has taken the lives of about 300,000 people. Nigeria has had its own share of the pandemic with over 400 people infected and about 15 fatalities recorded so far.
There is currently no cure nor vaccine for the novel coronavirus and consequently, the virus doesn't discriminate when it comes to fatalities as it has been killing the rich, broke, wealthy and the powerful.
A handful of prominent people around the world have been infected by the virus. Politicians, athletes and entertainers have all been infected by the it.
Speaking of prominent people, one of the coronavirus related deaths recorded recently in Nigeria was that of the Former Chief of Staff of the President of the federal republic of Nigeria, in the person of Mr Abba Kyari.
He contracted the virus about two weeks ago and unfortunately due to underlying health conditions he succumbed to the virus.
Mr Kyari's death is considered a national loss, (at least by those currently eating directly from the national cookie jar) and indeed it is sad to lose someone to the deadly disease caused by the novel coronavirus.
However, as tragic as it is, Mr Kyari's death (or burial as the case may be) has taught us two things as Nigerians;
officials of the federal government of Nigeria do not practice what they preach, and ..

life is vanity upon vanity garnished with vanity.
In a picture currently going round on the internet depicting the burial process of Mr Kyari, people can be seen packed up together to pay their last respect, an act that's directly counterproductive to the 'social distancing' strategy being employed by the federal government in tackling the spread of the virus.
Secondly, the picture also depicts Mr Kyari being buried with bamboo sticks and simply wrapped up with a clothing material. All of this would not be a big deal, but seeing as Mr Kyari was a powerful and prominent man, any wise person who comes across this picture would be reminded instantly that life is vanity upon vanity….
..and the that the Nigerian government is run mostly by people who don't practice what they preach..
(See pictures below)