Gunshots rend the air,Commercial bus on fire as police clash with Riders over Okada,keke ban in iyanapaja
Gunshots rend the air,Commercial bus on fire as police clash with Riders over Okada,keke ban in iyanapaja
A commercial bus has caught fire at Alaromi area of Iyana Ipaja, Lagos.
The incident occurred on Wednesday,Following the implementation of commercial motorcyclists and tricycle ban in Lagos State which is already taking its toll on motorcycle operators and Lagos …
There was a protest in Iyana Ipaja area of Lagos State on Wednesday over the ban imposed on motorcycle ( Okada ) and tricycle ( Keke) operators in the state.
The protesters also light bonfires and disrupted business activities in the area .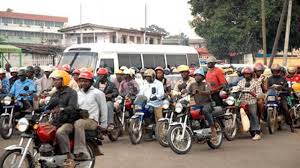 According to another source on Twitter, a twitter user @Boda Tailor who tweeted about the incidence, he says,
"There's an on going riot at iyanapaja Lagos state ! We're all running for our lives , as the police fired tear gas everywhere to keep the bike men away from violence , another bike man was struggling with the police over his bike , and he got beaten

Don't go there… if you're on your way go back! Please retweet , re share and stay safe
61
0
0
Migos Rapper Takeoff Shot Dead in Houston Texas The rapper Takeoff, a member of the Grammy-nominated hip hop trio Migos,...