FCMB finally meets 'little Dele', gives her ₦1 million to sponsor her education
Read Time:
1 Minute, 58 Second
Little Dele is a girl that went viral after she was pictured using FCMB's ATM light to write her assignment.
Recall, the young girl was said to have been seen along Yaba Road creatively using the light from the ATM for her school work.
Responding to the viral tweet, the bank twitter handle had written;
15.1K people are talking about this
Little Dele has been found and she stays with her grandmother, she attends a private school named 'Hope of Glory Academy'.
According to The Zonal Police PRO, Dolapo Badmos, FCMB has found her and they are supporting little Dele, with a One Million naira in cash for her upkeep and also promised to sponsor her education to University level.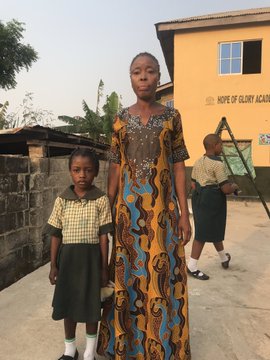 Sharing photos from a visit to Dele's school, she wrote;
This is what tenacity can cause, don't give up easily on your goals! She had an assignment, she understands she must achieve it and she went all out not minding the obstacles and challenges! In fact in surmounting her challenges she got a break through!
This is a lesson! Let's face challenges wholeheartedly, like I told the younger ones I mentored few days back! Challenges always lead to promotion, face it, fight it and you will arrive at your destination! Congratulations to this young dedicated and courageous pupil!
THE STORY OF YOUNG DELE THAT USED ATM LIGHT TO DO HER HOMEWORK. THE BANK IS SPONSORING HER EDUCATION TO UNIVERSITY LEVEL AND SHE HAS BEEN GIVEN 1M NAIRA FOR HER FURTHER UPKEEP) THANKS TO THE BANK FOR SUCH GOOD GESTURE OF CORPORATE SOCIAL RESPONSIBILITY.. CSR AND THANKS TO THE GREAT SOUL THAT CAPTURED THAT MOMENT FOR US ALL TO SEE.
216
0
0
Migos Rapper Takeoff Shot Dead in Houston Texas The rapper Takeoff, a member of the Grammy-nominated hip hop trio Migos,...