#Endsars: CNN Releases Another Report On Lekki Tollgate Shooting (Video)
#Endsars: CNN Releases Another Report On Lekki Tollgate Shooting (Video)
American Television channel, CNN has released an updated investigative report on the Lekki tollgate shooting, despite sanction threat from the Nigerian government.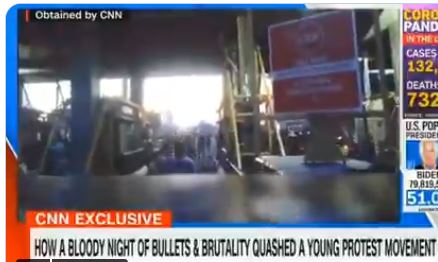 Recall that, few days ago the Cable News Network released its findings from an independent investigation carried out on the October 20 shooting.
CNN conducted an independent investigation on the shooting and aired their findings, which included a footage of what appears to be soldiers shooting at the #EndSARS protesters who had gathered at the tollgate.
The news network has now released an updated report on the gun fire incident.
The second report shows the Commander, 81 Division, Brig. Gen Ahmed Taiwo, admitting before the judicial panel in Lagos that military men had live ammunition in their weapons while at the tollgate.
Watch video 1 below,
watch Video 2
[/tps_footer]
192
0
0
Shocking as Mysterious bees disrupted the APC rally in Kogi and chased supporters. In the video sighted, supporters of the...