Moment Drunk Police men Shoot birthday boy and his friend dead At Lagos Birthday Party at Da silver hotel, Egbeda (Video)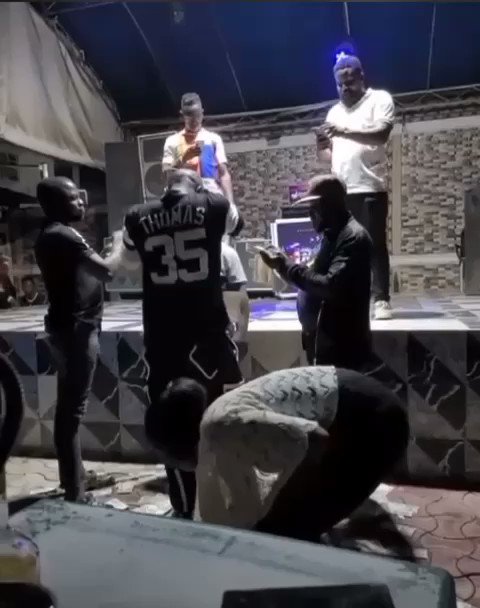 A trigger-happy policeman, on Sunday, shot dead two persons and injured two others at the venue of a party which was organised at La Silva Bar in Gowon Estate, Egbeda, Lagos.
TRIXX NG learnt that the drunk policeman took to his heels on realising the enormity of what he had done.
It gathered that the celebrant identified as Ifeanyi alias Asiwaju of Computer Village, invited the policeman to provide security at the party.
The killer policeman was reportedly trying to show off and impress the birthday celebrant when he miscued and fired gunshots into the guests who were dancing.
Two persons have since been arrested in connection with the incident after the owner of the bar reported it at the Gowon Estate police station.
The spokesman of the police in the state, Benjamin Hundeyin, said the command was on the trail of the policeman.
He said, "I can confirm there was a shooting at the bar on Sunday night and two persons were killed. We are investigating the circumstances that led to the shooting. I can assure you that those responsible will not go free. They will face the music. The commissioner of Police Lagos State, CP Abiodun Alabi, has zero-tolerance for such behaviour and has already given marching orders to the DPO to fish out the culprits."
*LAGOS:* At least two persons have been feared dead after a yet to be identified celebrant invited the police for security during his birthday celebration at LA SILVA hotel Egbeda.
The said police man @PoliceNG @PoliceNG_CRU who was allegedly drunk wanted to shoot upwards, pic.twitter.com/Muy73CwKy0
— Tracker NG🇳🇬 (@NewsTrackerNG) April 25, 2022
word-break: break-word;">Watch the video herehere