Japaa : Husband flees as wife smashes bottle on side chic's head after catching them in a hotel (Video)
Pandemonium broke out at a hotel recently when a wife caught her husband with another woman.
In the trending clip, the wife spotted her husband with another woman, said to be his side chic, at the hotel, and she confronted them.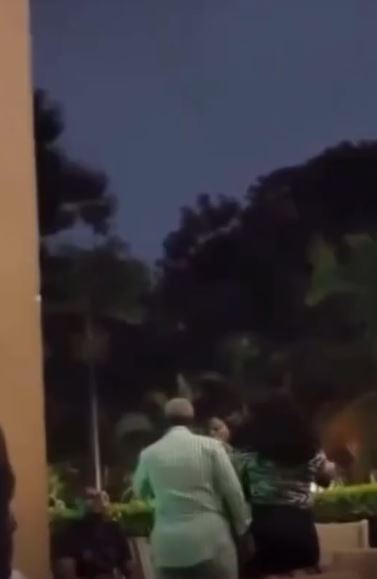 However, as the man and the alleged side chic tried to explain what they were doing at the hotel, the wife, who apparently wasn't having it, broke a bottle on the head of her husband's mistress.
As soon as the husband saw how chaotic the situation had become, he quickly fled the scene.
Even after smashing bottle on the lady's head the wife continued to torture the wounded side chic, who could be heard sobbing in pain.
At a point, witnesses had to step in as the mistress charged at the wife in an attempt to get revenge, but she was bleeding profusely and collapsed to the ground.
Watch the video blow,
In related news, a video circulating online shows the moment a married woman confronted her husband's side chic after catching her in their matrimonial home.
In the viral clip, the visibly-enraged wife cussed out the side chic and called her a common prostitute for visiting her married lover in his home.
She also queried the sidechic for fleeing through the backdoor if her conscience was clear, and kept on raining insults on her while threatening to deal with her.
A man, believed to be her cheating husband, was heard tackling his wife for filming the incident. He said in Yoruba, "Ki lo fa gbogbo eleyi", which means "why are you doing this?".
All the while, the sidechic didn't show any sign of remorse and attempted to grab the wife's phone to stop her from recording her.